Silicon Tape Applicator
Introduction
Specially designed STA for application of silicon tape on cardboard boxes mainly used in e-commerce business. Our STA comes with a controlling system over a touch panel, easy to set up and compatible to be mounted on any MPFG.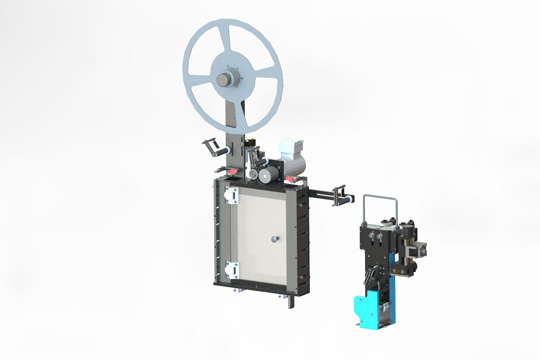 Features & Specifications
Silicone tape applicator
Silicone tape applicator with Omron servo drive and Omron PLC control
Controlled via 8" touch panel
Tape width min. 15 mm / max. 60 mm
Maximum 5 tape segments at one pass
Applicator holder for high stability and precision movement by Z and Y axis
Min. tape length 75mm
Tape jam control with automatic feeder stop
Air blower
Air blower for each of silicone tape applicator for better tape adhesion
Controlled via HMI interface
Pneumatic components with independent pressure adjustment
Tape presence control
Control of tape presence in bunker and silicone tape applicator
Automatically feeder stop when silicone tape is not detected
Advantage of minimizing spoilage products
Sensor for detecting the silicone tape on the cardboard
AHM holder for silicone tape applicator
Holder with high stability and better hotmelt quality
Strengthening for side rods with universal clamp for 20 – 30 mm rods
Precision movement by Z – axis (up and down)
Precision movement by X – axis
Angle movement around Y – axis
Adjustable down holder
Lower support for cardboard
View it in action
Coming soon..
Don't miss out on our services
Our services include: machine relocation, maintenance and repair, modernization and training & coaching.
Machine relocation