Inter-HST 90
Introduction
With the length of 4,250 meters and weight of around 4 tonnes, our newly designed Inter-HST 90 is capable of processing cardboard format width anywhere between the minimum of 80 millimeters (8 centimeters) and maximum 900 mm (0,9 m). That's just to give you a taste of what our machine has to offer. The Inter-HST also comes equipped with numerous other features and options and can be easily connected to your existing MPFG for a fully automated production.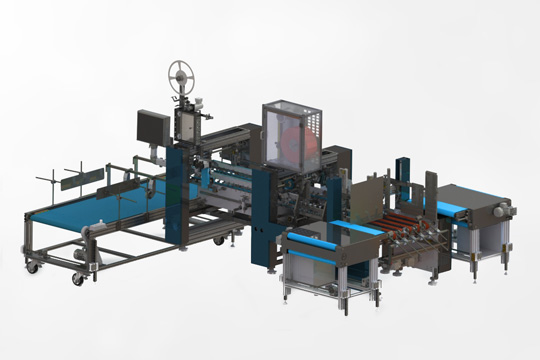 Features
Machine Design
Open design allows operator to move within the machine
Safety during production process is ensured with light barriers
Possible configuration on wheels for easier movement of machine in production hall
Possibility of connecting to MPFG for fully automated production
Feeder: Perfect aligment is ensured with feeder high flexibilty and various feeding options
Feed belts easy adjustment to the left and right
Feed belt angle adjusment for most demanding products
Dual feed gates with angle adjusment
Extendable linear guide bar suppport for larger cartons
Possible configuration with Servo motor for better feeding perfromance and independent adjustment
Side register section : Perfect carton alignment for perfect hotmelt and tape quality
Double side register section with belts
Precise adjsument with angled rollers for various material thickness
Standard size 1200mm and optional customizable size
Delivery Conveyor : Small, light and flexible
Length 2700 mm and optional customizable
Width 900 mm and optional customizable
In line or "L" shape installation
Spray element counter and programabille packages counter
Two pneumatic gates for better alignment on conveyor
Application section
Open design for easy set up of silicone tape applicator, teartape applicator and hotmelt glue
Moving applicators from left to right side (and opposite) with linear guides
Additional drive for teartape applicators for better teartape quality
Teartape section
Pneumatic teartape applicator with speed up to 13.000 pcs/h
Servo teartape applicator with speed up to 20.000 pcs/h
Tape rupture control
Hotmelt
Hotmelt melting unit (with gear pumps) controlled on INTER HST HMI
Hotmelt head controlled on INTER-HST HMI
Pneumatic pusher for optimal counter pressure on hotmelt head and better hotmelt quality
Control system
Specially designed so that the operator has insight and can control the entire work process of the machine
Memorable working settings
Specifications
Processed materials
Carton boards: max 800 g/m2
Corrugated Flute type: G,F,E,D,B,C,A,BC,AB,EE,BE
Capability
Speed: 20 to 200 m/min
Thickness of folded box: max 40 mm
Blank width: 80 mm to 900 mm
Dimension and weight
Length: 4.2m
Width: 1.5m
Net weight: 4 t
Installation
Power required: cca. 15 kW,400 VAC
Compressed Air: 6 bar
Air compressor capacity: 500 l/min
View it in action
Coming soon..
Don't miss out on our services
Our services include: machine relocation, maintenance and repair, modernization and training & coaching.
Machine relocation